We just got a few of these in from Wolf Choir.
($14.99 ships to Continental US)
$19.99 ships Internationally
---
Limited Edition of 25 Hand Numbered Prints by Aaron Shepherd and Weston Smith.
This Hand Printed Show Poster is from the December 11th 2008 at The Artistery featuring Kimya Dawson, L'Orchidee D'Hawai, Angelo Spencer and Thollem McDonas. Thollem's band included Arrington De Dionyso and Ben Hartman (of Old Time Relijun) and Tim Duroche. Thollem McDonas and band were added after the poster had been printed and so are not listed.

$13 USD (ships to continental US)
$27 USD (ships internationally)
---
Fearful by Metal (ARC 004)
Limited 500 pressing.
This is the fourth studio album by Metal. The package includes:
-180 gram vinyl
-Full color jacket of polaroids taken by Aaron Shepherd at Lake Cavenaugh, WA in late winter/early spring 2008
-Hand numbered, full color credit insert print of a water color by Aaron Shepherd
-Hand silkscreened CDR released by Funkytonk Records
All layout by Eric Adrian Lee.
Track Listing:
Side A:
1. Introduction
2. In the Dark We Are Not Alone
3. Plateau
4. Ghost
Side B:
5. Fear (listen)
6. Death Wish
7. Red Moon
8. Shooting Star
$15 USD includes shipping to Continental US
$25 USD includes International shipping
---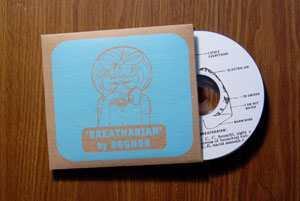 Bognor: Breatharian (ARC 006)
10-track CD recorded, performed and printed almost entirely at The Artistery by Luke Mahan's bare hands, this album can only be described as "Tweefolktronic," unless you can think of something better. It's 47 minutes long, if that helps. Listen to some choice tracks at his Myspace right now.
Track Listing:
1. I Stole Everything
2. You Might Like To Know
3. Electric Air
4. A Failing Art
5. If You Want
6. In Unison
7. The Delay
8. I Am Not Water
9. Electric Air Organ Reprise (with xylophones and noises)
10. Warm Wind
($6 includes shipping to Continental US)
---
Artistery 'Danzig' T-Shirt – SOLD OUT –
Hand screened image of Glen Danzig wearing an Artistery sash, and the words "ALLDOCUMENTED. ALL TRUE." Red ink on natural AA shirt, sizes L only.

---
Live at The Artistery: 2003-2005 (ARC 001)
19-song CD done up nice with a booklet of reminiscences and a cd of live music from Mount Eerie, Thanksgiving, A John Henry Memorial, Watery Graves, Karl Blau, and more recorded by Aaron at Artistery shows.
Track Listing:
1. Thanksgiving: The Old Graveyard
2. They Shoot Horses – Empty Head
3. Mount Eerie – In a Generous Way
4. Karl Blau – Shadow
5. The Watery Graves – Spanish Theme
6. Metal – The Defeat of Modern Evil
7. Modernstate – "A Cover of Sorts"
8. Dot.Matrix – Morning Song
9. Piano – Dark Hills
10. Jack Rose – Hard Luck Child
11. Climber – Horns
12. Bryan Free – Pathless
13. Nate Ashley – Drowned In Dreams
14. Thanksgiving – I Know Who You Are
15. Horse Machine – Six Legged Steer
16. Horse Machine – Poop Filter
17. A John Henry Memorial – Golden
18. Mount Eerie – Where?
($12 includes shipping to Continental US)
---
The Land of Milk and Honey: An Ideal Living Situation
5 song CD by Weston's project The Land of Milk and Honey. Recorded and performed by him at the Artistery. Handmade packaging! Sweet lo-fi sound! I thought these nickels were quarters!

Track Listing:
1. Nickels and Quarters
2. Pace
3. Down
4. Of Pride
5. Story 3
($6 includes shipping to Continental US)
---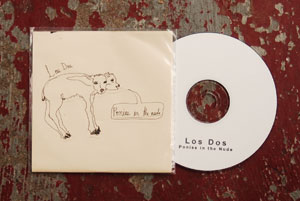 Los Dos: Ponys In The Nude (ARC 005)
This is a cute little number created by Aaron Shepherd and Laura Hartman. If you know Spanish, you might know a lot of the words. Some of them are in English, though.
Track List:
1. Sarah Jones
2. Un Momento
3. Baby Beluga
4. Ponies in the Nude
5. Tonight You Belong to Me
6. I Want to Kiss You
7. Ella es Un Gato
8. Los Dos
($7 includes shipping to Continental US)
---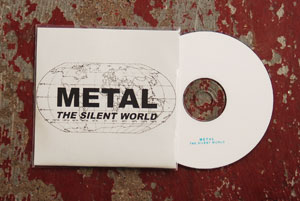 Metal: The Silent World (ARC 003)
An homage to Jacques Yves Cousteau and his legacy. Handstamped CDR in plastic sleeve. Moving.
Track List:
1. Mountain Pressing Upon Mountain
2. Cloud Formations
3. Title Bout
4. The Silent World
5. Swan Island
($7 includes shipping to Continental US)